---

---
---
---
Manties gift certificates
---
---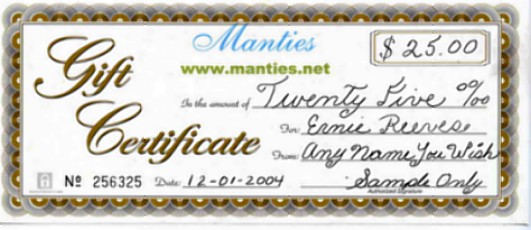 Manties gift certificates are the perfect gift to give that special someone that you care about.
They are great to give for holidays, birthdays, anniversaries, stag parties, retirement, and almost any occasion.
Imagine the suprise and delight that he will get from this gift knowing that you thought enough of him to give him a present of the most comfortable underwear that a man could get.
No more need to wonder about sizes, styles, or designs.
A Manties gift certificate is the easiest gift that he can get and redeem.
There is no need to mail it in, unless he wants to.
To order a gift certificate: Simply go to the order page and fill out your details and in the order box, just say gift certificate for $0.00 or select money order and you may send your payment by mail.
The certificate is sent to you so that you may finish filling it in or add a personal message. It couldn't be a simpler nor easier way to get someone a gift that they won't soon forget.

To redeem a gift certificate: The recipient can just go to our order page and fill out thier order and put in the gift certificate number and also the security number on the back of the certificate.
The order will be processed and sent discretely to you at the address that you fill in when placing your order.

There is no need to use the value of the certificate all at one time. You may wish to order 1 pair of plain to check fit or style and then place another order at a later time.
You will have a credit for up the value of the certificate to use at any time.
Each time you order you must fill in the order form completely as we do not keep mailing addresses or other information on file.
We have no mailing lists, and we never contact you after your order is completed. We keep no addresses or names for security and privacy reasons. We do keep the certificate number and security number from the back until the certificate is used completly.
Time to order.... Click on the order button below and let's get started.