M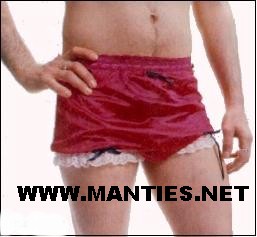 ---

---
MANties with leg lace
These are Manties Briefs with leg lace.
The lace will lay flat under most pants, so they may be worn anywhere. They are a replacement for the old boring white cottons.

They are great for day or evening wear and will add a little pizzaz while at the same time being very comfortable to wear !!
Click on picture to see a larger view...
lw
lbl

lgr
llbl
lpk

lpr
lr
lbe
Price: $ 8.95 each.